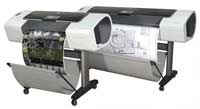 ReelColour version 5 retains the same base functionality of earlier versions but has been streamlined and enhanced to work optimally with a new generation of large format ink jet printers. ReelColour version 5 supports DesignJet T1100, 24″ and 44″ widths and provides 1200 x 1200 dpi proofs.
ReelColour integrates with PrintExpress or RIPExpress to provide a RIP Once Output Many (ROOM) proofing system for newspapers, magazines, inserts etc. The ReelColour advantage is to easily match proof output to that of a particular press. As well as colour balance, all aspects of the final output are reproduced on the proof including screen angles, screen rulings and halftones. It will even show problems with the image such as moiré and poor highlights and shadows.
This is all possible because ReelColour takes the actual RIPed file from the RIP that will eventually be sent to drive the imagesetter or CTP recorder. These files are in the form of standard 1 bit G4 TIFF. One bit TIFF file formats supported are CCITT Group 4, Group 3 and LZW. Once a proof is approved for final output the same TIFF files are used for the actual output to any recorder. Halftone proofs can be at 85, 100, 110, 120, 133 and 150 line screen.
ReelColour uses press match settings, several of which can be stored, and then no further colour adjustments or profile updates are required. Printer linearization software provides balancing between several proof printers, thus when combined with press match settings it can provide faithful proofs at several origination sites for multiple print sites. Separate queues on a single system can target separate printers with simultaneous processing and output.
ReelColour version 5 uses standard platforms both for the software and the proofing engine.
Features of ReelColour:
Proof on own stock
Up to 44″ wide (reel end) rolls
RIP once output many
Multiple press match settings can be stored
Reduces advertising credits
Data integrity maintained
Scalable system, up to 2 printers per server
Utilises standard hardware
Supports HP DesignJet 1050C printers for 600 x 600 dpi proofs