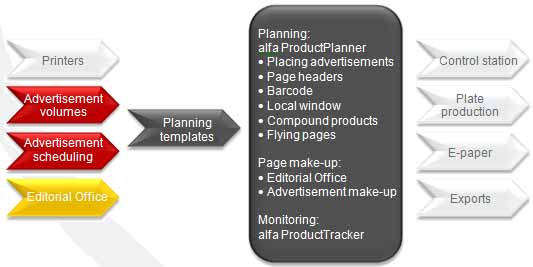 With the desire to push back deadlines as far as possible, ProductionSuite provides cutting-edge tools for page planning of even the most complex of issues and production progress of a product right up to the exposure of the plates.
It delivers a complete overview of even complex products including partial issues, or compound products comprising a mixture of broadsheet and tabloid pages, with flying pages and wrap pages also catered for.
A clear overview of the current production status of individual elements offers continuous monitoring of the pre-press and printing stages of production. This complete overview facilitates flexible adjustment of advertisement bookings and editorial contributions. Planning amendments are immediately visible in the editorial system and in pagination. Continuous monitoring uses different status types with individual elements clearly identified. Alarms are triggered if an element deviates from its schedule.
ProductionSuite offers optimum integration and networking of the editorial, advertising and tracking system, which enables last minute changes before printing begins.