NewsSuite Enterprise is an XML based editorial solution using Windows and browser based workstations. It is tightly integrated with our other products: AdSuite, (order management system) and ProductionSuite, (automated planning and production system).
NewsSuite provides an integrated solution for managing and optimising editorial workflows. Every source of content is supported from reporter input to e­mails, including contributions from news agencies. The NewsSuite system becomes the hub for efficient editorial content production, allowing the editorial staff to focus on delivering professional journalism. A workgroup concept is supported giving controlled access to articles, pictures, agency bulletins etc. from multiple locations and workstations.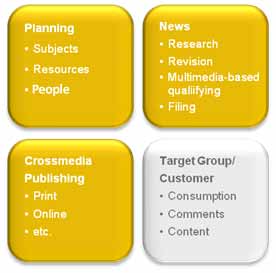 All of the necessary tools for editorial work, in an age of cross media and multi-channel based content are provided by NewsSuite. Time-consuming procedures are streamlined with dynamic processes and input routines. Journalists have efficient tools for in house, online or off line working with articles or partial pages. Photographers have equally supportive tools for fulfilling photo assignments and collaborating with the central news­room. The PhotoReporter is a browser-based application, providing the editorial department with suitable and verified photographs.
All news services can be integrated; input is gathered, converted, for­matted and set on route in the editorial workflow. This enables publishers to get editions to print or web quickly and easily.
An identical journalistic and technical environment for both printed and online material facilitates the flow of content from one channel to the other. Articles are no longer kept back for the printed newspaper, but are published directly on the Internet – giving readers the latest information and referring them to the printed edition. To meet today's need for speed, online articles can be created independently of the printed versions.
Useful indexing is the key to effective research. Mandatory fields in the intuitive indexing process ensure high-quality meta-information.
e-dition provides a link to the Internet. The process of reproducing printed publications on the Internet, based on PDF printed files is automated and involves no additional work. Internet editions offer readers an interactive experience, for example, through intelligent links, zoom functions and the ability to enrich content with additional information.