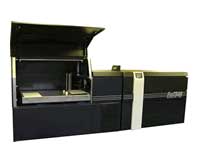 The FasTRAK® Violet CTP has established itself as one of the fastest, most economical CTP systems in the business, capable of throughput speeds up to 225 plates per hour. Combined with the TrakMATE 2 autoloader and the PrintExpress workflow systems, the FasTRAK Violet CTP meets production deadlines in today's most demanding environments.
The broad range of FasTRAK platesetters are equipped with today's best imaging technology. Select the 150v, 180v or 225v Violet photopolymer system to image the plate of your choice using 8 resolutions; 1016, 1200, 1270, 1524, 1800, 2032, 2400, 2540.
For a fully automated CTP solution with a capacity of 1000 .012-inch plates, the optional TrakMATE 2 feeds plates to the FasTRAK CTP system as fast as they are needed, resulting in automatic, unattended plate production. TRAKmate 2 supports the full range of media sizes imaged by FasTRAK CTP, from plates as small as 305mm x 381mm, up to 625mm x 965mm. Plate thickness may range from 0.008 to 0.012 inches. TRAKmate 2 monitors the status of the FasTRAK CTP and loads the next plate as soon as imaging is completed. The FasTRAK Violet CTP accepts the plate and uses a highly reliable opto-mechanical system for alignment and positioning, ensuring repeatability for colour registration of ±25 µm (±0.001 inches).
Most CTP plates are packaged with paper slip sheets to protect the sensitive emulsion layer of each plate. TRAKmate 2 removes slip sheets with no degradation in throughput. Slip sheets are deposited in a bin that can be emptied without exposing the unused plate supply. If your plates do not require slip sheets, the TRAKmate 2 will switch automatically to run without slip sheet removal.
The FasTRAK family of CTP devices can receive bitmap data from RIPExpress or the PrintExpress workflow system on Sun/Unix or Windows servers. The interface between the RIP/PrintExpress and the FasTRAK CTP is alfaQuest's proven LaserBus 2, permitting interconnection of multiple RIP's and recorders without an external multiplexer.
The alfaQuest family of modular architecture lets you configure a system for your exact application, based on either alfa CTP or PrintExpress Workflow.
Related products include:
Multiple PrintExpress RIP modules
Dynamic job routing
Automated post-RIP page pairing
Network proofing
Web based soft proofing
Automated fan-out compensation
Ink pre-setting
Page tracking
Online processing & punch bending
Cluster failover & disaster recovery