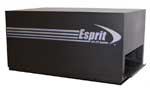 At the core of every Esprit CTP is the proven technology found in alfaQuest's renowned and successful line of high speed, high quality FasTRAK CTP, but at an unparalleled lower price. The Esprit has been designed and developed to meet the production and cost demands of community and suburban newspapers as well as to provide low cost, high quality CTP redundancy in larger production facilities. Although many low cost CTP products provide inferior imaging quality and low reliability. alfaQuest has used the same optics and the same plate feeding technology which is in use in many of the newspapers industry's most demanding CTP production environments.
The Esprit delivers high quality CTP basics at a truly affordable price – pure and simple. Whether installed on a table top or on its optional stand, Esprit is all about imaging plates using 5 selectable resolutions; 1016, 1200, 1270, 1524 and 1800 dpi. Esprit incorporates the proven and reliable imaging technology of FasTRAK CTP with a minimum plate size of 305mm x 381mm and a maximum plate size of 635mm x 1016mm. This means all violet plates certified by alfaQuest, including chemistry and process free plates can be imaged with Esprit.
Esprit can receive bitmap data from either the RIPExpress RIP, or the PrintExpress Lite workflow system on Windows workstations. The interface between the RIP and the Esprit CTP is LaserBus 2, permitting interconnection of multiple RIPs and recorders without an external multiplexer. With a wide array of CTP workflow software you are able to configure a system specifically for your exact application.