AdSuite Enterprise is a flexible and streamlined order processing system for all types of orders, ranging from printed advertisements, inserts, online advertisements, forms and TV & radio slots. Given the variety of possible orders, AdSuite proficiently controls the workflow for the advertising material, optimising customer support through access to the integrated commercial and technical processing workflow. 24/7 online, self service ordering allows customers to design, create, place an order and pay for an ad which significantly reduces costs and extends system functionality. This adds value for the customer while making significant savings in order processing costs for the media company.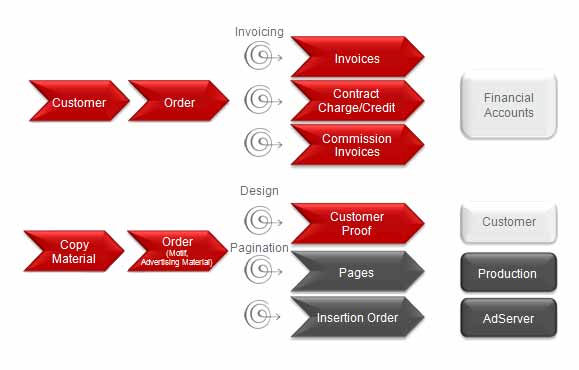 CRM campaign management includes complete contact management with campaigns based on definable customer and order criteria with functions that include automatic generation of circular letters and campaigns. An integrated invoicing system generates invoices, credit entries, and contract and commission calculations for transfer to the accounts department.
The flexible analysis of all offers, reservations, scheduled and invoiced orders provides transparency and makes it easy to create user-defined analysis and statistics. Results can be transferred using XML to other applications, for example, Excel.